'Anzac Hill' Artist Book, PLACE travelling Exhibition
Concertina Book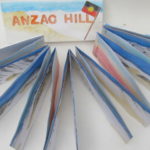 The red earth of Anzac Hill inspired the design for the Australian Aboriginal flag. My 360 degree view of Alice Springs celebrates inclusivity and encourages all people to embrace every view. Flying the Harold Thomas designed flag, inspired by the red earth around Anzac Hill is a step towards that inclusive view.
For 30 years, supporters have been fighting opposition to fly the flag at the sacred site and military memorial, in what they said would be the next step towards 'unity, inclusion and reconciliation.'
On 9th July 2018, for the first time in history, the Aboriginal flag was raised on Anzac Hill after a smoking ceremony and address from Alice Springs town Councillor Catherine Satour. She was instrumental in allowing the Aboriginal flag to be raised in the outback town's landmark on special occasions.
Shirleen Campbell, an Arrernte woman from the Tangentyere Women's Family Safety Group, described the ceremony as 'an emotional and bitter-sweet occasion'. She wants the flag flown permanently on Anzac Hill.
This book has been travelling around NSW and ACT in the PLACE Artist Book Exhibition during 2018 – 2020.