'Belonging' Exhibition at Project Contemporary Artspace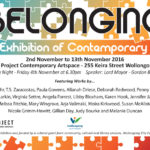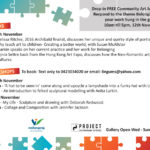 belonging-exhibition-poster-a4-lowresbelonging-exhibition-poster-a4-lowres
Illawarra Association for the Visual Arts (IAVA) Exhibition is on at Project Contemporary Artspace until 4pm Sunday 13th November 2016. Gallery hours 10-4 Wednesday to Sunday.
The gallery backs onto McCabe Park in Keira Street,  Wollongong not far from the old Dick Smith Shop.
Wollongong's Viva La Gong Cultural Festival is on in McCabe Park on Saturday 12th November until 8pm.
FREE Artist Talks and Workshops are available during Viva La Gong.