3rd Global Print 2017, Portugal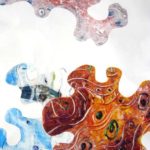 Honoured to be chosen to represent Australia in the 3rd Global Print Exhibition in 2017 in Portugal.  My monotype print Sowing and Reaping is included.
With around 500 artists from more than 60 countries, only in this 3rd edition, the Global Print is one of the largest printmaking events in the World and the 2nd largest in Portugal, surpassed only by Bienal do Douro.