'Intercity' included in PLACE Artist Book exhibition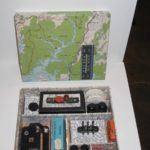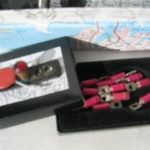 Intercity
This work recognises the small components that we used before the micro technology took over our communications.
This box of discarded electronic components represents the 2 cities Sydney and Wollongong and the connection between the 2.
The parts are in small boxes like museum exhibits. They represent a time gone by.
The design and manufacturing skills of these parts have been superseded by the skills to create robots to make microscopic components that can hardly be seen by the naked eye.
Wollongong has been a manufacturing city creating the steel to make these objects. It is now the City of Innovation.
Sydney has been and still our closest city to benefit from this manufacturing excellence.
The maps on the outside are Wollongong to Sydney. The maps on the inside on the boxes are of Wollongong Streets.
This work has been travelling around NSW and ACT in the PLACE Artist Books Exhibition 2018 – 2020.