Slivers of Difference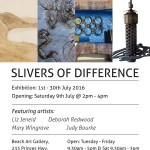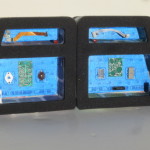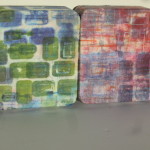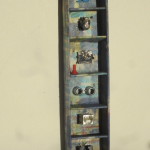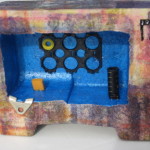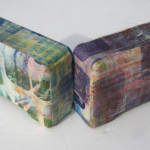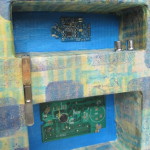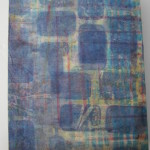 I will also exhibit some artist books from the Shoal Bay and Fingal Bay series as well as some monotypes from the new Flat Packs series.
Media Release
6th July 2016
Slivers of Difference in Bulli
 Four Illawarra Association for the Visual Arts (IAVA) members are exhibiting new contemporary artworks at IAVA at Bulli. 'Slivers of Difference' will be opened by well-known broadcaster, author and artist Caroline Baum on Saturday 9th July 2016 at 2pm.
Artists Deborah Redwood, Mary Wingrave, Liz Jeneid and Judy Bourke are exhibiting painting, sculpture, prints and Artist Books.
Deborah Redwood's works have been created from found objects. These objects have come from junk yards, markets, op shops and even collected along the beach.  Recently she has become very interested in driftwood and incorporating it into wall hangings and sculptures.
Mary Wingrave has exhibited three different processes in this exhibition.
The first was working from a still life composition with wax, ink, washes and collage at a workshop with Denis Clark at Bathurst this year.
The second is a series of 18 monotypes using the pressed flower/emerging fruit stage of the 'firewheel tree'.
The third was a more laborious encaustic process involving image transfer of cicadas between layers of wax, sometimes adding bitumen, and finally embedding cicada wings.
Liz Jeneid's works were all created during an artist residency in a small French village in the south, near Narbonne.
The village was once part of a thriving salt producing industry, and the lakes now are part of a national park. On very still days the reflections in the water were so strong, and became the focus of the small paintings she did there.
Judy Bourke has been investigating contemporary packaging in this new series of artist books and boxes, prints and sculpture.
The prints are from the Flat Packs series of monotypes. The boxes are from the 'Inside the Met', the 'Metropolis' series of works.
The Artist Books are from a series of drawings of the edges of the land where it meets the sea or large bodies of water in the Port Stephens area.
What:   'Slivers of Difference' exhibition
Where:  Beach Art Gallery on the corner of Park Road and Princes Highway Bulli until 30th When: 1st – 30th July
Time:   Monday to Friday 9.30 – 5, Saturday 9.30 – 3
Cost :   FREE entry , Free parking at the door
Contact:           Judy Bourke
P                      4267 2697
M                     0427 100 621
W                    www.iavacontempart.org